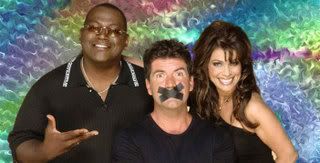 They were all born in the 80s and these are the songs that have chosen!!!!  What is up with that?
  Come on…pick some good songs.  Bad choices.
Ramiele Mulabay - pitchy and terrible.  Randy Jackson called it right.  Very much in danger tonight.

Jason Castro – don't know if I'm crazy about the song (and I really like Sting), but Jason can sing!

Syesha Mercado – she sang it – but I'm still bored with it. 

Chikezie – easily the most improved from the beginning of the competition BUT once again, what is up with the song selections.

Brooke White- beginning (oops).  Gorgeous voice.  I agree with Randy Jackson 100% – weird arrangement – should have stuck with just her and piano.  (What is up with Paula Abdul's arm/glove sleeve…is she cat-woman?)

Michael Johns

– best so far tonight (and best for Michael).  Excellent song choice.  What is up with Michael and

Queen

?  Not hinting at anything

– just asking.

Carly Smithson- ending…not so much.  But I think she is awesome!  I think the judges are judging her more harshly than others.  Come on…contrast criteria between Carly and Ramiele!!

David Archuleta – the kid has skills, but I don't like the song.  "Sounds like something he sang in show choir in high school" – Kelly Barrington.  If David sings the phone book…I WILL NOT fall in love with it (thank you Paula).  "Theme-park performance" - got to agree with that.

Kristy Lee Cook- Is this an attempt to invoke a Patriotic sentimentality to stay in the show?  Pitchy.  Take it to a county fair!!! 

David Cook – Brilliant.  Loved it.  "I like him better than Chris Daughtery" – Kelly Barrington.  Those are fighting words.  Having some tension in the house this week!  I think Paula is about to kiss him.