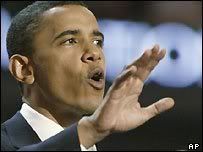 QUALIFICATION:  I don't care who you voted for.  I didn't (on principle) and DON'T vote (someday I'll explain my theological reasons why…yes…such reasons actually exist).  My own family was torn between the two candidates.  And if I were to vote, I could have easily voted for one on Monday and changed my mind for the other on Tuesday.  Truth is…I like both of them.  Qualification now over.   
The election is over and Barack Obama has won!!!  Given the amount of "Christian crap" I heard prior to the election about Barack Obama and what this would mean for the country, the church, and the end times (seriously)…I'm curious how the church (specifically the white evangelical side of it) will now respond. 
I remember months ago driving in the car with a fellow Pastor to lunch (that is what we do
) and he let me know his great concern about Obama winning the election.  He was concerned that we had turned so far in this country that we would actually vote for a Muslim to be the President.  I interrupted him and said that Barack Obama wasn't a Muslim.  He insisted that he was, and further, it was a fact that he was sworn in on the Koran when taking his oath to enter the Senate.  I again protested that neither was true.  He insisted that it was, that he received it via e-mail from a very knowledgeable and reliable Christian source.  In the end, I don't think I convinced him, and his last warning to me was that I shouldn't put it past him to be a closet Muslim who will come out once elected!!!  [I did not make this story up.]
Prior to this election, I received A TON of e-mails (mostly forwarded), letters, faxes to the church, and messages of concern as to what would happen if Barack Obama were elected.  More than at any other time I could remember.  And most of the e-mails and messages were outrageous in regards to accusation, tone, and fear-mongering.  And most were in defense of Christianity!
It has been disappointing to hear that Christian radio stations like WFRN after airing a Barack advertisement (which they are required to by law) would follow it up immediately with an apology from the President of WFRN to all their Christian listeners.  WOW!!  That gives me a rash.
It seems to me that when it comes to the New Testament's teaching about gossip, slander, false accusations, etc. that somehow we have read it to mean that it applies to all with one major exception – POLITICIANS.  And for predominantly white evangelicals, the exception seems to be even more narrowed to politicians who happen to be on the Democratic ticket.  They are fair game.  And we can say whatever we want, forward whatever we want, propagate and pass on as fact a juicy tidbit that none of us really checked out but passed along because our Uncle Bob from Utah forwarded it to his entire e-mail list saying "according to Snopes this is true."  In essense, if someone is running for office, we can suspend Christian morality and ethics in speech and attitude because God never intended for it to apply to them.
Well…Obama won.  And Christians are now having to play the reluctant "God is in charge" rhetoric (which I wonder if we would have to say if McCain had won).  But the country is still watching.  Specifically, the African-American community is watching.  And I think our response to this election will have great impact on how a large (it now seems majority) segment of America will be able to hear anything we have to say again…
More to come.