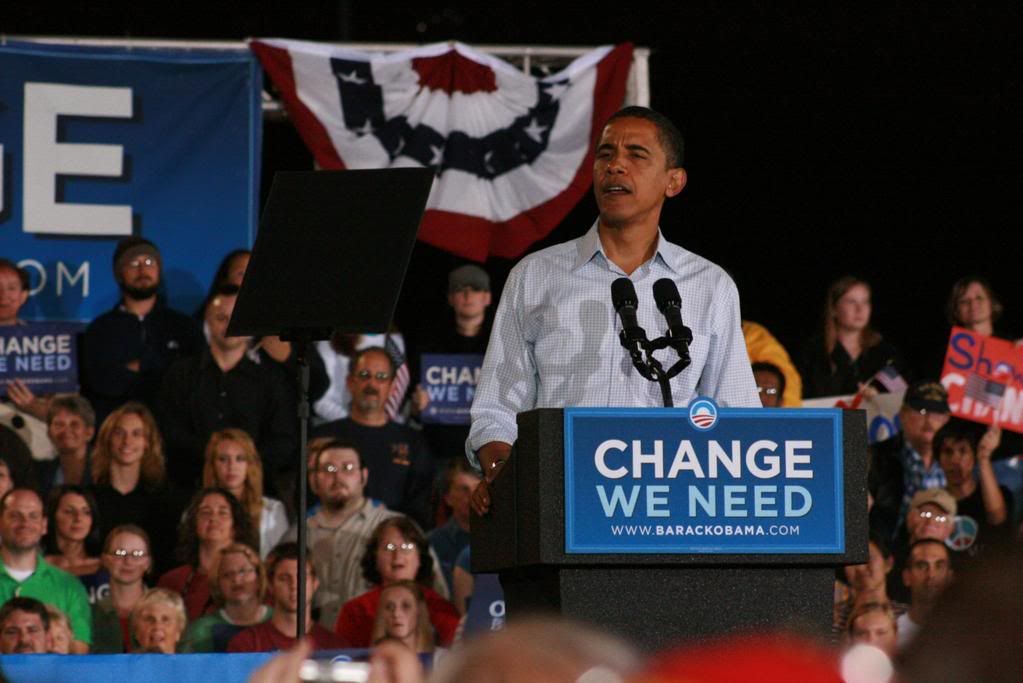 I can only imagine what it must be like for an African American to either have lived through, or heard stories from parents, grandparents, etc. about the days when you couldn't eat at the same counter as whites, or drink from the same fountain as whites, or stayed in the same motel as whites to now be living in and witnessing the election of the first African-American President in the history of the United States.
As I watched the results come in on Tuesday and saw the African-American community overwhelmed with emotion I got it (I say "got it" with humility knowing that it is relative to the fact that I am a white male and can't possibly understand the depth and scope of emotions felt by the African-American community in this regards).  I'm not sure the emotion was about Obama specific, but about something bigger.  About the culmination of a larger story, a greater meta-narrative that was finding some resolution, some justice, some breakthrough as it was on Tuesday night. 
Now let me pan out from the African-American community and address the larger, and majority of Americans who supported and voted for Barack Obama.  What has concerned me about the rhetoric going into the election from those on the Democratic side has been what appears to me to be borderline messianic expectations of an Obama administration (and maybe that is what happens every election on every side, but it seemed more so to me with Obama in this election).  The swooning over his campaign as if the world finally had hope; could finally be restored to its true and right position; could finally have reason to have faith again - is odd given the fact that it seems the Kingdom of God calls us to hold lightly (if at all) the power of government (all government) and to pledge our allegiance to only one government…the one that belongs to Jesus.  The Kingdom of God is our allegiance.  And the king of that Kingdom is our hope.  He is the only one who can bring about "true change we can believe in."  He is the only one who has our allegiance.  He is the only one who restores the earth to its proper order.  He is our King (or Lord, or rightful President).  So if one votes for Obama out of a sense of public policy and its implications for the nation, fine.  But one should hold that vote lightly.  He should "vote as if he did not vote."  In the words of John Piper:
1Co 7:29-31  I mean, brethren, the appointed time has been winding down and it has grown very short. From now on, let even those who have wives be as if they had none,  (30)  And those who weep and mourn as though they were not weeping and mourning, and those who rejoice as though they were not rejoicing, and those who buy as though they did not possess anything,  (31)  And those who deal with this world [overusing the enjoyments of this life] as though they were not absorbed by it and as if they had no dealings with it. For the outward form of this world (the present world order) is passing away.
[in reference to the things of the world] But as we deal with it, we don't give it our fullest attention. We don't ascribe to the world the greatest status. There are unseen things that are vastly more precious than the world. We use the world without offering it our whole soul. We may work with all our might when dealing with the world, but the full passions of our heart will be attached to something higher—Godward purposes. We use the world, but not as an end in itself. It is a means. We deal with the world in order to make much of Christ.
So it is with voting. We deal with the system. We deal with the news. We deal with the candidates. We deal with the issues. But we deal with it all as if not dealing with it. It does not have our fullest attention. It is not the great thing in our lives. Christ is. And Christ will be ruling over his people with perfect supremacy no matter who is elected and no matter what government stands or falls. So we vote as though not voting.
- John Piper
So if you are an Obama supporter – celebrate and take joy in a historic election and all that means as a culmination of American political and national history.  But in the end…the occupant in the White House is only there because the King who sits on God's throne established it.  And we can never find in that occupant, what we find in the One on the throne.