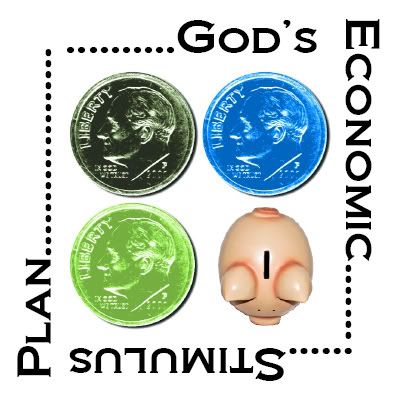 In every survey and poll you find - the top concern or worry going into 2009 is about the economy and personal finances.  You can't turn on the radio or TV without hearing words like:  bankruptcy, bailout, economic stimulus package, bear market, wall street, stocks are down, CEO salaries, foreclosures, home values, economy, Brittany Spears (I threw that in to see if you were still reading), etc.
So – we aren't living in a unique time.  Economies throughout the centuries, including in biblical times have been up and down.  And the Bible has quite a bit to say in the midst of it.  So, let us begin 2009 by tackling head-on all of this talk about the economy and seeing what God has to say in regards to his economy, in the midst of our economy.
Beginning this Sunday – a three week message series entitled, GOD'S ECONOMIC STIMULUS PACKAGE.
January 4 – Opting Out of the Contagion of Fear
January 11 – Kingdom Investments
January 18 – Character that Transcends Economies
Bring a van full of friends, neighbors, family members, and co-workers!!! Unless you don't have a van, then cram as many of them into your car as possible.  Unless you don't have a car, then carry as many of them on your back as you can!!