I think it is interesting that in our politically sensitive day and age typically no one from an Anglo-Saxon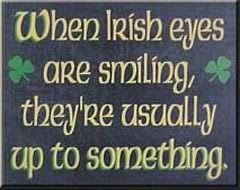 background can really celebrate their heritage except – the Irish.  You don't have a whole day carved out to celebrate being English or German…but once a year in March…every Irishman (and many who are not) get to celebrate their heritage.
There are 4 million people who actually live in Ireland.  35 million people who are Irish by descent in the United States.
But the reason no one is afraid of the Irish celebrating their Irishness (is that a word) is because they have NEVER been a conquering nation.  They have always been the conquered.  They have been occupied and bullied for centuries.  That is why they have a scrappy nature… and drink a lot!  When you think of colonization, oppression, plundering the earth…Irish doesn't come to mind!  When you think of Irish you think of:
Potatoes
Famine
Whiskey
Green Beer (and Guinness)
Irish jigs
Hearty scrappers
Corn-beef
No one is afraid of the Irish.  For several seasons, even in college football…I'm sad to say…no one is afraid of the Irish
.  I am one from my grandmothers side (she is a Collins…that is why she cusses, drinks, and scraps so often).  So…to my fellow-Irishmen…happy celebrating!