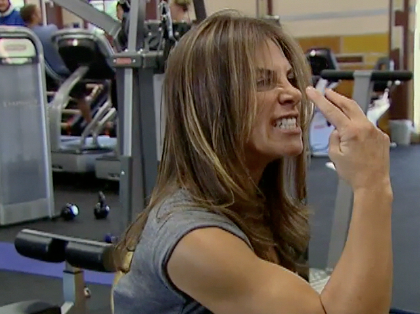 Contestants going home for the week.  When they arrive they have a "package" waiting for them – an exercise bike – and CUPCAKES!!!  Good combo.
The challenge – In front of their friends and family they have to bike 26.2 miles.  The winner of the challenge gets $10,000. Temptation…for every cupcake they eat, they can give a 5 minute penalty to any contestant they want.
Lance…dude!!!?  He ate 17 cupcakes.  Of course egged on by his game-playing wife – Melissa.
Nice job Sam's mom…make a fattening breakfast while he is trying to lose wait and then…oh wait a minute…wait for it…YES…A BL VERIZON APPLICATION COMMERCIAL.
Daris got himself a girlfriend.  I like that dude.  He is losing some serious weight.
The bike challenge is far too dramatic and taking WAY too long.  Feels like manufactured hype.
Sam won the time, but had the most cupcakes.  Koli was the winner!  The reason I'm so happy about this is because if he didn't, then Lance would have.
Weigh-In:
Blue Team
O'Neal: -7 lbs.
Sunshine: – 8 lbs.
Lance: – 8 lbs.
Michael:  - 8 lbs.
Koli: – 10 lbs.
Daris:  - 4 lbs. (lost 102 lbs. in 10 weeks)
Black Team
Andrea:  - 6 lbs.
Stephanie:  - 9 lbs. (wow)
Ashley:  - 10 lbs.
Sam:  - 14 lbs.!!! Snap!!!  (110 lbs. in 10 weeks)
Lance is going home.  Take that cupcake.