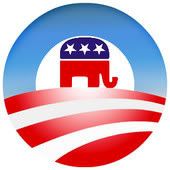 First – you have to understand that I consider myself to be a fierce Independent when it comes to politics.  In fact, I'm more Contrarian than I am Independent – meaning I root against whatever party seems to have all the power (I'm rebellious like that).  But one thing I do believe – a city dominated by a single party (like South Bend) is TERRIBLE for the city.  And unfortunately, South Bend has been dominated by the Democratic party forever (slight hyperbole…but almost true).
Then, after being the longest-serving mayor in South Bend, Steven Luecke decides to retire.  What an opportunity!!  This is it!!  A chance for maybe another party (like the Republicans) to stage a campaign that might actually address the issues of South Bend and put forth a worthy candidate whose record, message, and ability would win the chance for an alternative party to lead the executive wing of South Bend governance.
What does the St. Joseph Republican Party do?  Well…to start, the chairman, Chris Riley resigns in February.  Probably because under his leadership he failed to put forth a single viable candidate.  Has anyone been reading in the Tribune the comments and coverage of the three Republican candidates:  Will Taylor, Wayne Curry, and William Davis!!!???  I'll give Wayne Curry props for at least showing up last night at a GOP forum at IUSB (the only Republican to do so).  But come on!!!
This entire scene is a practical joke on South Bend fitting only for a candid camera episode.
Thanks a lot GOP for insuring we get more single party rule in South Bend!!!